Welcome to Rudgwick Chapel
There is a warm welcome for all at the chapel in Rudgwick, a village on the border between West Sussex and Surrey.
We are an evangelical church and we believe that God's message, as revealed to us through the Bible, is as relevant today, as it ever was.
Do browse our website and if you are able to visit us, we can assure you of a warm welcome.
We're easy to find in Church Street, the main road through Rudgwick - please see How to Find Us and look out for our blue signpost.
All-Age Family Services
On the first Sunday of every month our All-Age Family Service will be especially geared towards families, with singing, fun activities and a talk suitable for children. After the service we will serve refreshments and something to eat. Everyone - young or old - is very welcome. We hope you can come along!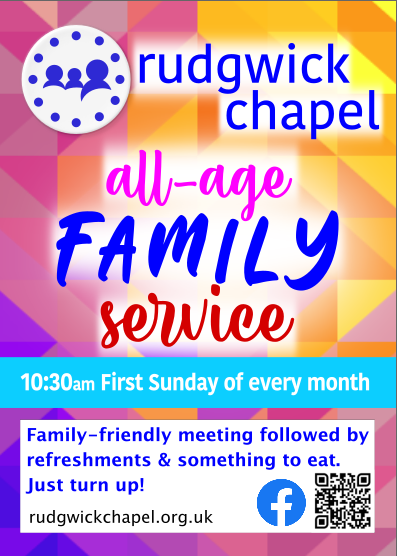 Who are we?
We are an independent church. That means we are self-supporting and are not subject to control by any central body. We keep in touch with other churches in various ways – see Working With Others. In particular, we are affiliated to the Fellowship of Independent Evangelical Churches, and are members of the Sussex Gospel Partnership.
We are an evangelical church. That means we believe the Bible to be God's word. You can find fuller details of our beliefs on the What We Believe page.
We are a welcoming church. You'll have to visit us to see if that's true!
And above all we are a group of Christians, followers of Jesus Christ our Lord. If you would like to know more about him, then please come and ask us. Please browse the website to find out more details about us and what we do. We look forward to meeting you.
Friday 1st December
7:30 pm
-
A Festive Treat with Spoken+Sung
Sunday 3rd December
10:30 am
-
All Age Family Service
Wednesday 6th December
11:30 am
-
Zoom Prayer Meeting
Sunday Morning Service 26th November
Sunday Morning Service 19th November
Sunday Morning Service 12th October